October 31, 2021
by Marriane Solante
The 3rd Mindanao Art Fair opened in October 2021 and will end on the 31st of October. This is the biggest art fair installment in Mindanao which is held in Davao City. The event was led by Lawig Diwa, Inc. and was granted by the National Commission on Culture and the Arts National Committee on Art-Galleries (NCCA-NCAG). With COVID restrictions, some exhibits were performed virtually. The amount of visitors allowed inside is limited, with only about 100 people per time slot. QR Code, confirmation e-mail, and a valid ID were the only requirements and the registration is free.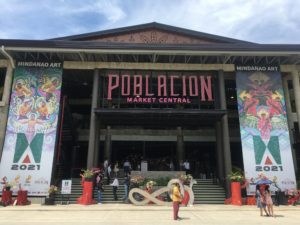 Poblacion Market Central, Davao City
Photo taken by Marriane Solante
This year's theme for the art fair is Art in Between: Mindanao Art in Liminal Space. The theme signifies the hardships that we are all currently going through, with the pandemic and its effects on our health and environment. We are in the middle of getting used to this kind of situation while also hoping for the future that we will soon arrive. It is a "recognition of where we are all right now-in a space of ambiguity and disorientation as though suddenly put in the middle of a busy hallway where everything is a blur."
Artists from various places in Mindanao such as Iligan, Tagum, Digos, Cagayan, Gensan, Mati, Cotabato, Kidapawan, Calinan and more have their works displayed. Most of these are in an artist group. We have here AHON, a Mindanao Watercolor Group composed of 18 artists that painted memories of Mindanao. It was formed to tell the people of the experiences of the artist during this pandemic through watercolor painting.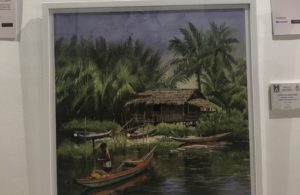 Gieward Hulagno, AHON Mindanao Watercolor  Group
Zamboanga del Sur
One of the exhibits was "Four Artists for Mindanao" by Lucas Ranola who painted a series called Bangkerohan that featured scenes in Davao City's Bangkerohan Market. Tanya Gaisano Lee's unique Pen Art displayed chickens to let the people appreciate that these animals are beautiful and more than just for fun. Jag Bueno's art represents Mindanaoan culture titled "Ingod" and Elenita Dumlao's Simplified Complexities that promotes abstract art.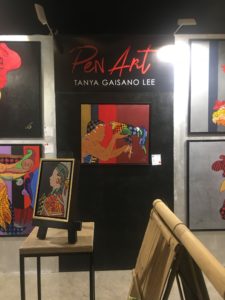 Tanya Lee, Pen Art
There were many different forms of fine art mediums that were used. Oil painting, watercolor, murals, sculpture, assemblage, fashion, and many more. Some even had a mix of two mediums. One artist even used facemasks as their canvas.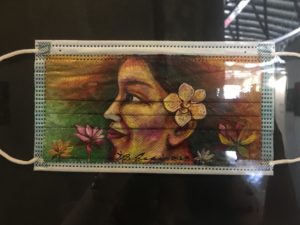 Victor Bong Spinosa
"Art Walk, Art Talk", is a special event which is a fashion show that aired on October 10 at 6 in the evening. 8 collaborated artists that specialize in interpreting different forms of art were used to create the outfits.
Floating Grounds by Architect Ed Viacrusis's is a satellite exhibit that shows us the art of making structures that encourages nature to be one with man-made buildings, rather than completely obliterating the greens in the area. This exhibit was held at his house which he changed into a man-made forest, completed with treehouses and ramps that lead to the treetops which are all-natural and environmentally friendly.
The Mindanao Art Fair started in 2019 and was held in the Gaisano Mall of Davao. The event was followed in 2020 that was equally successful as the first one with over 200 artists who joined. However, with the pandemic, the artworks were made viewable online. This year's art fair was a success as well, giving hope for the future and letting us know that even through hardships, art will always prevail.