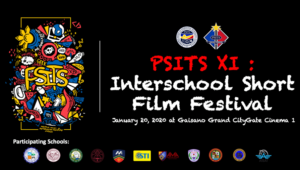 Written by: Mary Joy Saludo (BSEMC 1 Student)
The day is finally here: The PSITS-XI Interschool Short Film Festival 2019 Competition held in Gaisano Grand CityGate Cinema 1. Participating schools include University of the Immaculate Conception, University of Southeastern Philippines, Davao Del Norte State College, AMA, Malayan Colleges Mindanao, Mindanao Kokusai Daigaku, Ateneo de Davao University, Philippine Women's College of Davao, STI College Davao, Jose Maria College, and last but not the least is our very own Asian International School of Aeronautics and Technology. This is actually AISAT's very first time entering the PSITS film festival.
The scheduled film showing has been postponed numerous times either due to the recent earthquakes, aftershocks, or mall renovations. So, the students from the IDT department have been waiting in excitement for a very long time since they've prepared 3 entries.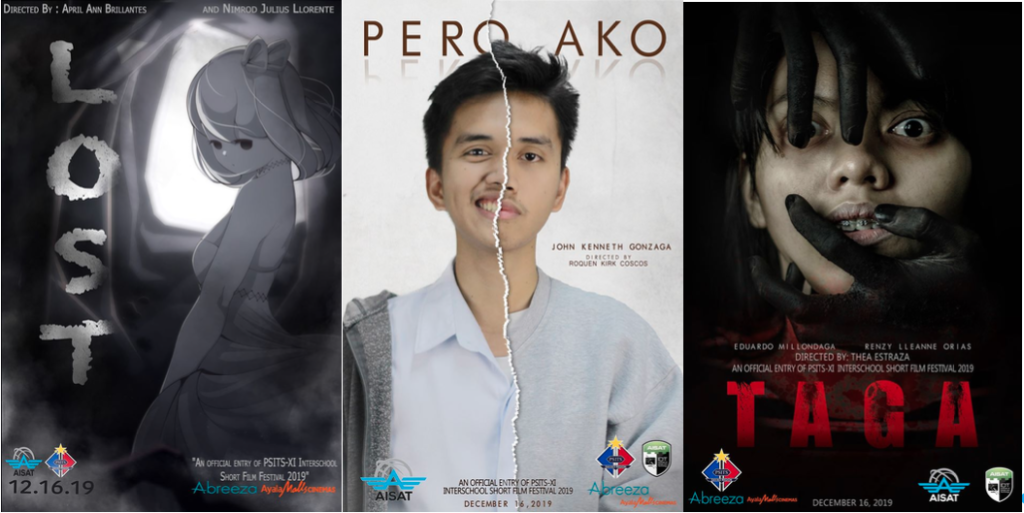 One of our entries in the Drama genre is PERO AKO which features John Kenneth Gonzaga. Directed and edited by Roquen Kirk Coscos along with scriptwriters Mary Joy B. Saludo and Eduardo Millondaga, the drama features a boy who struggles with his own identity of what he truly wants for himself when the people he tries to please have very different ideals.
It was nominated for Best Production Design. Also, it was nominated for Best Supporting Actor/s, probably because there are so many supporting actors including Eduardo Millondaga, Roquen Kirk Coscos, Marriane Solante, Deneil Jadraque, Fionah Jean Tan, Mary Ann Bete,Paolo Deseo, and El Roi Amadeo Quir. In addition, the film was unforgettable since some faculty members like Mr. Arbe Jay Sumangue Polancos and Ms. Kelly Ruth Serenio played cameo roles.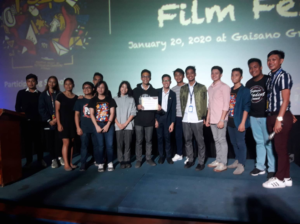 Another entry from the Animation genre is LOST. Directed by April Ann Brillantes and edited by Nimrod Julius Llorente, the film follows a ghost girl who finds herself in the home of an old lady alone. It was proudly animated by our very own talented students: June Masocol, who helped with the concept and Rayu Rafuli, who created the backgrounds and designs. In addition, there was extra animating help from Iris Aaliyah Baldado Layague and Sean Cartegena. The music used in the film was created by Miko Aligato, April Ann Brillantes, and Nimrod Julius Llorente.
It was definitely a challenging film to create as animation took a serious amount of time even if the students were given only a month for production. Through their skills and determination, they accomplished to finish the film and it even received a nomination for Best Visual Effects.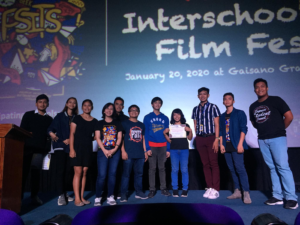 Lastly, we have TAGA in the suspense genre. This film in particular received most of the attention with the nominations of Best Director, Best Actress (Renzy Orias), Best in Cinematography, Best in Musical Scoring, Best Production Design, Best Editing, Best in Genre, Best Visual Effects, Best Trailer, and Best Poster. Directed by Thea Estraza and edited by Marc Steven Vegafria, it follows the story of a girl who struggles with sleep and nightmares. The mysterious creature is played by Eduardo Millondaga who sure gave the crowd a scare. The movie was assisted by Mary Joy B. Saludo and John Kenneth Gonzaga (from the Drama genre) who took charge of the special effects makeup, and Roquen Kirk Coscos who helped film several scenes.
Out of all the nominations, the film won the Best Production Design award. And out of all 11 entries, it ended up winning the 2nd runner up with 2 trophies. Indeed,  AISAT didn't come home empty-handed.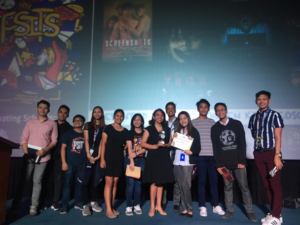 The students would like to thank AISAT faculty and staff especially Atty. Myra Ann Wee-toe Hio, Ms. Kaye Lodia, and Ms. Kelly Ruth Serenio who encouraged them to participate in the first place. It was definitely a challenge to create 3 film entries for only a month since the IDT department is known to have small student population. Students experienced numerous days of going home late and many nights without sleep, but they did it anyway! They may not have won all the awards but it was definitely an experience worth learning from with the willingness to participate again next year. Participants received so much support from other AISAT students including those from the senior high school department and the AISAT SQUADRON. With all this support and love, the students were able to receive the title of the Most Tickets Sold!