October 16, 2020
by Marriane Solante
The Philippines have the highest infected individuals in South East Asia since August and on the first day of October 2020, John Hopkins University recorded 314, 079 COVID-19 cases in the Philippines, putting the country at the top 20 list of having people infected with the virus. 7,114 deaths and 329,111 recoveries were documented on John Hopkins University Coronavirus Resource Center website on October 28, 2020. The Philippines overtook Ukraine with 374, 023 cases, which is now at 21st place and the Philippines is just a few numbers behind Indonesia with 400,483 cases.
Here is the list of the Top 20 countries with the highest infected rate according to John Hopkins University Coronavirus Resource Center as of October 28, 2020: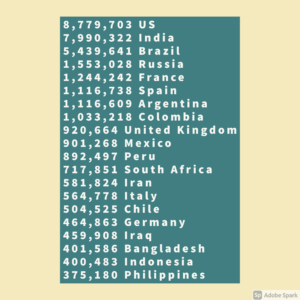 A Department of Health official said that it is nothing to be worried about and that the Philippines being on the top 20 of the list should not be a big deal. This is because the list only records all the people that were infected and not the active cases and low death rate. Health Secretary Maria Rosario Vergeire announced in an online forum that the top list is only based on a cumulative number of cases. "We have to focus on the active cases and not the cumulative number of cases," she said. There are 38, 995 active cases in the Philippines which is not even half of the total caseload. From 16,000 cases weekly, it went down to about 3,000 cases in September until now. The government is also improving the country's COVID-19 response which helps to lower the cases. According to DOH Covid-19 Tracker data, about 10.4% of the total cases are active, 87.7% recovered and 1.9% have died from the virus.
NCR is still the epicenter in the Philippines but even so – officials have seen that there are fewer cases than the previous months. Even with the Philippines being top 20, the Government has said that the most crucial part of this is that they are able to take care of the patients. Presidential Spokesperson Harry Roque has said in an interview with CNN, that the mortality rate is less than in other countries. Additionally, it is not impossible for the NCR to move to Modified General Community Quarantine (MGCQ) by next month. The University of Philippines OCTA Research group concluded that the cases in the country might get up to 380,00 to 410,000 by the end of October, that is why Metro Manila should still be under GCQ as it may lead to a spike of cases. Nonetheless, health officials advised that we should not be complacent and to continue the observance of masks, physical distancing, and avoid social gatherings.