December 15, 2021
by AISAT ROTC
A series of donation drives were made by the AISAT ROTC Organization.
On the 8th day of December 2021, at 1500H, the Asian International School of Aeronautics and Technology (AISAT) ROTC officers demonstrated the ability of teamwork at the 7th Arcen, Sasa Old Airport, Towem Compound. Teamwork is a collaboration of individuals to accomplish a specific goal. It is a fundamental requirement for an organization to function. If an organization lacks coordination, the result will be a low response rate. For this Season of Love, loving thru sharing, the said organization prepared and divided evenly the provided food packs. A total of 100 bags are to be distributed to the Senior Citizen Organization located at Purok dos Chapter, Lubogan Toril. This activity wouldn't happen without the support and sponsorship of the school and the guidance of TSg Christy Ilajas, PAF, and MSg Ljubolir David, PAF from the Philippine Air Force.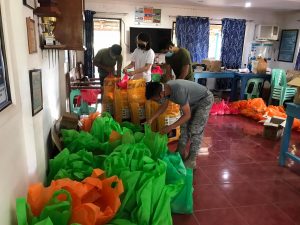 On December 15, 2021, with the initiative, AISAT ROTC officers successfully delivered and distributed the 100 bags of food packs for Senior Citizens in connection with the Civil-Military Operation of 7th Arcen, Sasa Old Airport, Towem Compound, packed on December 8, 2021. Before distributing food packs, a heartfelt message for the members of the Senior Citizen Organization was delivered by MSg Ljubolir David, PAF. Donating to causes that matter to you is not only good for the charity, but it may also be quite rewarding for you. The President of the Senior Citizen Organization, nanay Lily Luis, expresses her gratefulness after her organization received the donated food packs. Sharing a small quantity of food with others can help them in their daily needs amid the pandemic, also the satisfaction of witnessing the smiles on their faces. Despite the fact that we spent our leisure time serving the people, it all paid off, and we've learned to work together and share our blessings with those in need during this pandemic.