December 14, 2020
by Arbe Jay Polancos
The Philippines is not a stranger to martial arts. Just recently, The Association for the Advancement of Karatedo (AAK) Davao City Chapter joined an international competition held online and bagged six gold medals, two silver medals, and three bronze medals which paved the way to being the second overall organization to win in the 3rd Annual Karate Hakuakai Philippines Championship Online Karate E-Kata international tournament last December 01, 2020. One of the contenders of the said competition is a freshman taking up BS- Aircraft Maintenance Technology at Asian International School of Aeronautics and Technology, Mr. Ian Carlos Pascual.
Along with other candidates, Ian Carlos Pascual displayed his skills in Kata. Kata is a Japanese word that means "form" which refers to the patterns of movements in a choreographed martial art and it can be done alone and in groups. Kata is basically a form of practice, especially in martial arts. In the recent international competition, an E-Kata was organized. This means that players have to perform Kata online. The event was held from November 28-29, 2020 to December 5-6, 2020. Several cities and regions from the Philippines and other countries joined in the said competition.
For the AAK Davao City Chapter, Heleina So, who is a seven-year-old rookie topped the collection of gold medals in the Novice Kata Girls Division (also for 7 years old below). Next to her was a boy named Zachary Subang for the 8-9 years old Boys Novice Kata Division. Another boy close to the latter category and division also won in the name of Robert Dayanan Jr. won in the 8-9 years-old Boys Intermediate Kata. Consequently, Ian Carlos Pascual along with Stephen James Cartagena both won gold medals for the 16-17 years-old Boys Intermediate Kata and Boys Advance Kata, respectively. The AAK team coached by Rommel Tan placed 2nd overall to AAK Cebu as the 1st placer overall.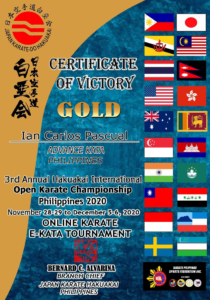 In an interview through a phone call, Mr. Ian Carlos Pascual said that one of his challenges as a college student and at the same time an athlete was that there is a time-constraint for him. He said that " Buntag mag-eskwela ko dayon pagka hapon kay mag training. Wala na kayo koy time para magdula-dula kuyog sa uban. Nag focus gyud ko sa akong goal ug nalipay ra pud ko na naa koy na-achieve aning time na nay COVID."
( In the morning, I attend my classes and I train in the afternoon. I didn't really have time to play and have fun with others. I really focused on my goals and I am really happy that I achieved something from what time COVID has brought us.)
When asked how he felt during the competition where he cannot see his opponents, he adds: " Kulba gyud kaayo ko ato kay dili nako makita ako kalaban ug wala ko kaila nila. Pero maski ana kay gibuhat nako akong best kay nag-practice man gyud ko. Nahatag nako akong best sa practice so nahatag pud nako akong best sa actual."
 (I was really nervous because I cannot see my contenders and I don't know any of them. However, I still did my best because I really practiced for it. I was able to give my best in my practice and training so I also showed my best in the actual performance.)
As the interview drew to a close, he was asked about his advice to his fellow athletes in this time of a pandemic to which he says " Dapat mag set gyud ka ug goals. Pwede sa Ginoo or sa universe nimo i-ingon imong goals. Dapat pud ka mag practice taga-adlaw para ma-achieve nimo ang imong goals sa kinabuhi.
(You should set goals. You can tell your goals to God or to the universe. You should also practice every day in order for you to actually achieve your goals in life.)
Mr. Ian Carlos Pascual continues his college life in AISAT, where he wishes to let his dreams take flight.